This near-perfect Galaxy S6 clone can take you for a ride
16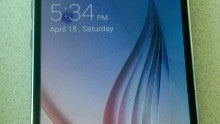 Hot on the heels of
our guide to flagship clones and fakes
, and how to distinguish them from the real deal, comes this clone of the
Galaxy S6
that shows what the Chinese cloning kung-fu is capable of. It also does show, however, that all the advice in the world can't prepare you for what you could see in flesh and blood.
The exterior might be a near-miss copy that would fool the typical user, but once you fire it up, the situation changes quite a bit, as the innards are pretty weak - an HD display against the Quad HD one of the S6, a quad-core MediaTek MT6582 against a blazing octa-core Exynos, and 1 GB of RAM versus 3 gigs in the original.
Thankfully, the unit is at least running Android Lollipop, though with these AnTuTu scores below you'd be hard pressed to enjoy it fully, especially if you shelled out several Benjamins for a pretty replica. Word to the wise.
Recommended Stories