How to tell if your Android device is a fake or a clone
14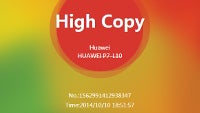 As is the case in other industries, there will always be those that try to usurp the success of a given company by trying to siphon some of the profits. In the mobile industry, this usually means outright fake/clone devices that attempt to fool the consumer that they're something they're not – like the latest Galaxy S6, or the Note 4. The more successful the device, the more likely it is that somebody somewhere (usually in China) is making clones of it and is trying to stuff it down customers' throats.
Naturally, this fact makes people uneasy, especially when they're ordering online and through e-tailers that they're not 100% sure they can trust. Obviously, the best protection against being cheated is to avoid those, or to ensure that they are reputable enough so that you can expect a refund in case of trouble. But not buying isn't always an option, and we
know
that people do, for a fact, end up with fake devices. While we can't save everybody from being bamboozled, we can certainly try.
There are myriad of ways to tell if a device is fake, and though the telltale signs differ depending on the smartphone in question, there are a few general tips that can end up saving you a lot of heartache. For example, almost without exception, fakes/clones arrive with an LED flash lamp that is significantly yellower and weirder-looking compared to the real thing. Other, common discrepancies concern the thickness of the device, the size and location of the various ornaments and elements (speaker grill holes, audio jack placement, etc), and, especially – the resolution of the screen. If you just ordered a phone with a 1080 x 1920 resolution or higher, and yet the thing you're looking at seems blurry, it's almost certainly a fake you're handling. That's because a high-quality display panel is easily among the most expensive parts of your smartphone.
But what if you have yourself a really,
really
good fake? We've seen those, and even we had trouble spotting the teeny-tiny differences. In those cases, we go ahead and download an app that has a proven track record in our experience – AnTuTu Officer. By analyzing a number of variables and phone settings, the app can easily tell you if your device seems to be authentic or not. Here's how it works.