This infographic will tell you everything you wanted to know about 2016 fitness trackers
3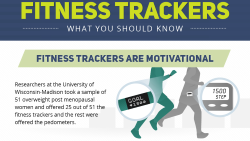 If you are serious about fitness, adding a fitness tracker to your gym bag, so to speak, can contribute plenty of meaningful statistics about your performance, improvements, and let you know how close you are to reaching your goals. However, the amount of options you have on the market right now is nothing short of vast, and for less technologically experienced users, the choice could be potentially overwhelming.
The good folks at MobileSiri have been in the same boat, and after doing all their research into fitness trackers and other sports-centric wearables, they came up with a colorful and informative infographic that does a great job illustrating the state of today's fitness tracking market. In addition to convenient information about the most popular models, the infographic presents plenty of interesting survey stats about fitness trackers' impact on society, why they are growing popular, who uses them the most, and many other reasons why they matter.
Check out the infographic in the slideshow below and let us know what you think!
ALSO READ