Fitbit's Alta is a fashion-oriented fitness tracker that can receive call and text notifications
8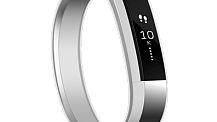 Fitbit, the world's largest wearable manufacturer by units sold, has just announced its first fashion-oriented fitness tracker.
Called Fitbit Alta, the new device is already available for pre-order at the price of $129, which is exactly what the company currently asks for the FitBit Charge, a tracker which the Alta appears to replace.
Right off the bat, one of the main differences between the old Fitbit Charge and the new Alta is the design. Like many other Fitbit trackers, the Charge adopts bright colors and rubbery bands for an overall more playful look. In contrast, the Alta also comes with optional leather ($59) and metal ($99) bands.
Sure, the Fitbit Alta also comes with a few colored plastic band options, but those who want to disguise their fitness tracker into a bracelet can now do so with the Fitbit Charge.
Another major change that Fitbit Alta brings compared to the Charge is the inclusion of a full OLED touchscreen that users can tap to get information such as the time, the activity progress, and the call alerts. The Charge also came with an OLED panel, but the scrolling was done through a dedicated hardware button.
While useful, the touchscreen will take a slight toll on the battery life; the Alta is listed with a five-day battery life, a downgrade compared to the Charge's autonomy of seven to ten days on a charge.
Speaking of notifications, the Alta can receive notifications such as text and calendar alerts from a paired iPhone, Windows Phone or Android smartphone. Furthermore, the tracker will also send out Apple Watch-like inactivity alerts, kindly suggesting a step goal to avoid sedentarism.
Another neat upgrade is Fitbit's new smart tracking feature, which the Alta uses to automatically detect when the user has started an exercise. While not earth-shattering, these are notable features that the Charge didn't have.
While the leather and metal band options will surely be appreciated by the fashion crowd, it remains to be seen if the Fitbit Alta will actually be commercially successful with this customer segment. Other fashionable fitness trackers such as the Misfit Ray, several Jawbone models, or the Withings Activite Pop arguably do a better job of passing off as actual accessories than the Fitbit Alta. On the other hand, however, none of these trackers offer digital displays to be used for activity information and notification delivery.
What do you guys think of the new Fitbit Alta?