This iPhone camera app works sort of like the Google Pixel HDR+
4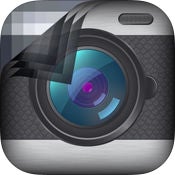 Quick storytime! HDR+ is Google's own take on HDR, active on its Nexus phones and its newest
Pixel
devices. It's a highly-praised technology for taking photos — instead of taking a few shots at different exposures and stitching different parts of them together (how regular HDR works), Google's phones take up to 10 stills at a constant, low exposure, and then stack them on top of each other. The point? Dark areas get lit up, with more visible detail and less grain or noise.
Today, as we were casually browsing for app deals and discounts, we stumbled upon Cortex Camera — an iOS app, whose operation reminded us of HDR+. See, Cortex was designed for low-light photography with less noise and grain. It allows you to dial down the ISO setting of the camera and take up to 99 shots, which it will stack much like HDR+ does.
Now, it's not an amazing HDR substitute when you need to balance light and dark within a photo. Not because it can't do it, but because it takes a lot of tinkering and trial-and-error to get right. But we do think the low-light aspect of the app deserves some tinkering with!
Cortex Camera has just been discounted to $0.99, from $2.99 and can be downloaded here: