This Lumia 330 concept shows us what a Nokia X with Windows Phone could look like
61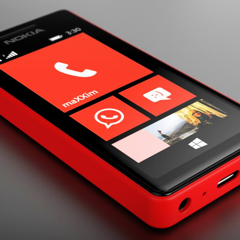 Microsoft earlier this month announced that it would shift some of the Nokia X product designs to
become Windows Phone devices
, while also
killing off the Asha and Series 40 platforms
. This means that, from now on, Microsoft's phone business (which includes Nokia's former Devices and Services unit) will concentrate exclusively on Windows Phone.
Since Nokia's X line includes very cheap devices aimed at emerging markets, the upcoming Windows Phone handsets based on it will probably have the same target markets. With that in mind, a designer who calls himself PhoneDesigner made a Lumia 330 concept trying to envision what a Windows Phone-based Nokia X would look like. The concept is pretty cool (for a low-end device anyway), and doesn't really stray from the design philosophy that Nokia has had in the last several years.
The Lumia 330 supposedly features a 3-inch display with 500 x 240 pixels (yep, we know, that's a weird resolution) and on-screen keys. It's been rendered in different color versions, including black, red, and cyan. One of the renders compares the Lumia 330 to an iPhone 5s, though it looks like Apple's smartphone appears slightly larger than it would in real life when put next to a 3-inch handset. Anyway, check out the Lumia 330 concept below, and let us know if you'd like to see something like this being released by Microsoft.