This 10-inch Android tablet has a quad-core CPU, 1920x1200 pixel screen, costs $213
12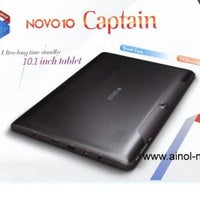 Ainol is a brand name you've probably never heard before. That's because the Chinese company caters primarily to the needs of the Asian market. Needless to say, finding any of its products on sale in Europe or the U.S. is extremely unlikely, although one can always consider shipping one internationally as an alternative. But why would anyone want to buy any of the manufacturer's products at all?
Well, here's a reason: the tablet you see here is the 10-inch Ainol Novo 10 Captain - clearly not the most vibrant name ever to be attached to a piece of gadgetry, but you might be surprised to know that the hardware inside the thing is actually a lot more impressive (at least in theory). We are talking about the IPS display on its front, sporting a
resolution of 1920 by 1200 pixels
. That is the kind of
pixel
density one would expect out of a high-end slate, such as the
ASUS Transformer Pad Infinity TF700T
. Then there's the processor inside it: a
quad-core CPU clocked at 1.5GHz
with Mali 400 graphics and 1GB of RAM. You also get a 2MP main camera, VGA front-facing snapper, HDMI output, GPS, and a 10,000mAh battery. Android 4.1 comes loaded on the device, according to its specs sheet.
The tablet is not yet available for sale, but its maker will start accepting orders in about a month. Chances are one will be able to have a Novo 10 Captain delivered to Europe or the U.S., although that might require paying a few dollars extra.