Thieves nab 22,500 LG G2's in truck heist
39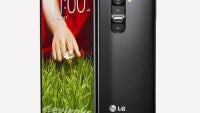 You really need to be on your toes at all times, even when you go for a bathroom break, because that's all it took for thieves to take off with a bunch of LG G2 handsets recently. Apparently, a truck full of LG G2 handsets was on its way to Louisville, Kentucky when it was stolen, the truck and all. In total, this lead to 22,500 LG smartphones being taken.
It seems that while the truck was on its way to Louisville to a Sprint store, the driver took a bathroom break, and when he came out of the john he found his truck along with all of its cargo missing. The Indiana and Illinois state police have been contacted, as well as the FBI, but as yet there are no leads.
Of course, because these devices were on their way to Sprint, that means they need CDMA authentication to be of any use, so it's questionable how valuable these devices will even be to the persons who stole the truck. Presumably, Sprint has record of the IMEI numbers of each device on that shipment, so it will be interesting to see if this theft is tracked down fairly quickly.