These dramatic LG commercials show the advantages of Knock Code (on the G3 and not only)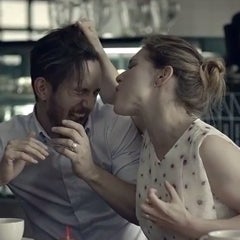 Ever since unveiling Knock Code for the first time (in February), LG touted it as
being safer
than other screen unlocking methods (including Apple's Touch ID). Now, LG has finally made a series of commercials to show us exact scenarios in which Knock Code can better protect your smartphone's security. There are four commercials to watch, each tying to conclude that Knock Code is better than fingerprint recognition, face detection, pattern lock, or pin codes. If you want our opinion, Knock Code can indeed be better in some situations, but not so much in others.
As you may know, Knock Code is one of the features of LG's brand new
G3
flagship smartphone, but it's also compatible with older devices, including the G2, G2 mini, and so on.
All four Knock Code commercials are embedded below. Meanwhile, if you want to know how to set up Knock Code on the G3, check out
our video tutorial here
- where we're arguing that the feature isn't as secure as LG believes it to be (at least not when you're using a simple code).