These clothes are designed to snuff out your smartphone addiction
9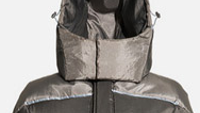 Are you addicted to your smartphone? Does the thought of your battery dying, leaving you without a connection to mobile data, make you shake and sweat? Do you go through app withdrawal when your carrier's network goes down for an afternoon? If you are addicted to your smartphone, there is a way to help wean you off a data network.
Clothes from Japanese designer Kunihiko Morinaga will have you facing the real word again. The new line, called
Focus: Life Gear by Trident
, includes jackets, shirts and pants made out of material that will block radio waves from reaching your smartphone. Signals from your phone bounce off the clothes just like bullets bouncing off of Superman's chest.
With your phone inside your pants pocket, the device might as well be turned off. We should add that these are not the most fashionable duds around, and in fact they are not yet available in stores.
source:
Spoon&Tomago
,
VisualNews
via
CNET