These are the silly people who "pre-ordered" the iPhone 5
18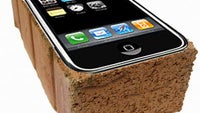 Prior to dropping a boatload of cash on a pricey new phone, a wise consumer would do a little research on the internet so that he or she knows whether the investment is worth it. Well, at least 17 people didn't do their homework, as
Gizmodo
discovered, and pre-ordered a smartphone that does not officially exist yet, namely the highly anticipated
iPhone 5
, or
whatever Apple decides to call it
.
It isn't exactly clear how these folks got to order the device in advance, but it surely wasn't through Apple. After all,
pre-orders for the new iPhone
are not expected to go live until September 12 the earliest, hours after the
official unveiling in San Francisco
. Our guess is that some retailer decided to cash in on the iPhone 5 hype and put up a pre-order page promising to deliver the smartphone once it is official. On the other hand, some of them could have been scammed. They might have just bought an iPhone look-alike – think jPhone 5 with 2 SIM cards, stylus, and extendable antenna for analog TV (seriously, these exist).
So no matter how excited you are about the new iPhone, don't buy or pre-order anything yet. Just sit tight and wait for the device to be unveiled officially before taking out your credit card. The official iPhone 5 unveiling is scheduled for tomorrow, September 12, so stay tuned for our coverage.