iPhone pre-orders may start September 12th
37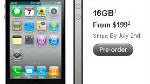 More leaks are pointing to the same time-frame for the iPhone 5 launch. We've seen leaks before that said
mid-September
would have the announcement, and now iMore is saying that pre-orders for Apple's next smartphone will start at the same time, which seems like a logical step that anyone could have made by now.
According to the report, September 12th will see the announcement and beginning of pre-orders for the iPhone 5, and the device will start its rollout release just 9 days later. The info says that on September 21st at least the US will see the release, if not more major markets, and the other international releases will begin the first week of October, possibly on October 5th.
Of course, we haven't heard anything official from Apple, but all that info seems pretty reasonable, and looks like the window that Apple aimed for with the last iPhone release. The real question is what other devices will be announced, or if it will be an iPhone only affair.