TheO is a foam ball to put your smartphone in, throw it around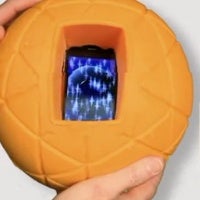 The
2012 Toy Fare
in New York might seem like the last place where you find smartphone related stuff, but it's not - it brings a neat foam ball accessory that makes you experience games in a much more realistic and engaging way.
The foam ball is called TheO and it's an accessory that
works with the iPhone, iPod touch and Android
smartphones with screens of 4 or less inches (not that many, come to think about it).
First of all, TheO is almost as big as a soccer ball and you just have to put the phone inside it where it fits nicely. Being a foam, TheO is pretty safe for you favorite gadget.
Now, the idea behind the TheO is that you can use it a bit like a Wii. The video demo below shows how it can be used for bowling, and there are two other suggested games with it - one a hot potato game, and the other one a mysterious social game. Those three will be bundled with the TheO ball that sells for just $24.99, but others are also being developed.