The world's first Angry Birds store
10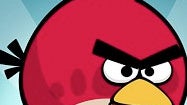 Angry Birds has everything both consumers and game creators want to see in a game. It has become so wildly popular that in September, Rovio general manger, Andrew Stalkbow, announced the game had been
downloaded over 350 million times
. The Angry Birds craze has even left the screen and translated into real world applications, everything from
Angry Birds birthday cakes
to a
theme park in China
.
Well, now you can get your Angry Birds merchandise fix at the official store in Helsinki, Finland. The world's first Angry Birds store opened its doors for the first time today and Rovio has already posted a few pictures on its Facebook page.
From the looks of things, there is no shortage of stuffed things. While it is not clear in the pictures, it is probably safe to assume it will also be selling the various items available in the shop on Rovio's website, such as Bad Piggles' Egg Recipes, school kits, and backpacks. In one of the pictures, there is even a giant slingshot that consumers can sit in and snap a picture.
Time is the only thing that can really tell if an Angry Birds themed retail store is sustainable, but we have to ask, does this fall under 'too much is never enough' or 'too much of a good thing'?
source:
Rovio
via
Slash Gear