Angry Birds theme park opens in China
15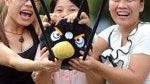 Just when we all thought that the
Angry Birds mania
has started to subside, the good people of
China
are taking things to a whole new level with Rovio's highly popular game. Sure you can get in a good round of Angry Birds on your smartphone, but did you know you can also get a crack at a real-world version of the addictive game?
Well people, an Angry Birds theme parked just recently opened in China's
The Window of the World park
where visitors are welcomed to get a crack at launching some
plush Angry Birds
at pig balloon targets placed in toy bricked castles. Showing off its close ties, there is even a giant-sized slingshot that's used to launch those adorable birds into the sky – much like what you do in the game.
Interestingly enough, the park itself doesn't have the approval from Rovio, which would enable the maker to actually hit the park with an intellectual property infringement lawsuit of some sort. The park's marketing manager, Ye Xiumei, says that the Angry Birds exhibit will remain there until the
end of September
.
Despite the lack of blessings from Rovio's camp, the park is very interested in striking a deal in the future. Spokeswoman for Rovio China, Daisy Yang, said, "We would welcome a partnership, but Rovio would need to give them permission to use the Angry Birds game." Granted that it's nice for the park to offer visitors the chance to play the mobile app, if a deal is made, it's kind of difficult to not want to play the real-world version of the game while they're there.
Nevertheless, a potential partnership would benefit both parties seeing that it would bring profits to Rovio and attract an unprecedented about of visitors for the park.
source:
Forbes
via
Textually