The un-official Android 4.1 Jelly Bean upgrade list - is your device on it?
50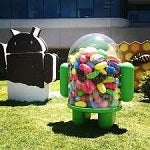 We have seen plenty of news about all the goodness of Google's latest mobile operating system effort. Very often, we catch promises from manufacturers about upgrades to legacy hardware. Much of the time, the upgrades arrive, kind of late. Other times, the updates never happen at all.
Well, we are not passing along any new promises, but the folks at Computerworld have established a rather comprehensive list of devices that should get the update, might get the update, those that probably will not get the update and devices that definitely will not get Jelly Bean.
Before you read down some of the highlights of the list, you should know that devices not listed does not equate to no update. After all, we have seen where updates to some older devices was promised, but retracted or never delivered. It is understandable if some manufacturers are a little gun shy over the issue. Even "shoe-in" devices like the Galaxy Nexus line have not been fully updated yet, and they are at the top of the list.
Devices that have received Jelly Bean:

Asus Transformer Pad TF300
Google Nexus 7

Motorola Xoom (except the Verizon LTE version, pending)
Samsung Galaxy Nexus (except the Verizon version so far, said to be in testing)
Samsung Galaxy Nexus S
Devices expected to be upgraded to Jelly Bean:

HTC One X, One S, One XL
Motorola Droid RAZR HD, RAZR HD MAXX, RAZR M
Samsung Galaxy Note, Galaxy Note 10.1, Galaxy S III

Sony Xperia T, Xperia V, Xperia Tablet S
Devices not expected to upgrade to Jelly Bean:
Casio G'z'One Commando
HTC Aria, Desire, Desire S, Desire Z, Droid Incredible, EVO 4G, Legend, Magic, Merge, MyTouch 3G/Slide/4G, Rhyme, Wildfire
LG Ally, Apex, Optimus One, Phoenix, Revolution, Thrill 4G
Motorola Backflip, Bravo, Cliq, Cliq 2, Defy, Droid (OG), Droid 2, Droid X, Flipside, Milestone
Samsung Continuum, Droid Charge, Galaxy Axe, Galaxy Apollo, Galaxy Fit, Galaxy Mini
Devices definitely not getting Jelly Bean (none of these will surprise anyone):

HTC ChaCha, Desire HD, Eris, Explorer, Flyer, G1, Hero, Nexus One
Motorola Charm, Cliq XT, Defy Mini, Devour, Droid X2, Droid 3, Fire, Flipout,
Samsung Galaxy S, Galaxy Tab 7-inch, Moment
Sony Xperia Play, Xperia X10
If you do not see your device listed, again, do not take it as gospel. For example, the Motorola RAZR and RAZR MAXX are not technically on the list and neither one is even a year old yet. Anything is possible though and that is why to their credit, Motorola is offering some incentive to those that miss out. However, you may be interested in checking out the list via the source link below.
source: Computerworld