The people have spoken: The HTC One M9 expected to be better than the Galaxy S6 (poll results)
99+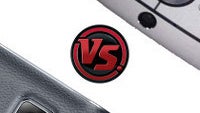 Passionate to a fault, the tech community always has its nose up manufacturers' personal business, always on the looked for each and every crumb of intel that would give away what's cooking in the oven. The nosiest among us you know as leaksters, and we have got to admit – they're doing a splendid job uncovering new information on upcoming devices. This much has certainly been true with the HTC One M9 and the Samsung Galaxy S6, both of which are currently at the very center of our combined attention. That's why we decided to take your pulse
this past Monday
, and see which you thought is shaping up as the better device of the two.
Some 4,000 of you took up our call and cast their vote. The results are now in, and some of you may be surprised that HTC, by all means the underdog here, actually is the crowd's favorite right now. Indeed, with over half the votes (61.64%), the One M9 seems to have won the hearts of many. In comparison, Samsung's Galaxy S6 has failed to pick up people's interest, with just 38.36% of all votes.
We'll admit that we weren't sure which way this is going. Initially, the votes were tied, and we lost track of the count later on, but it would appear that despite its rumored redesign and apparently much sleeker garb, the Galaxy S6 may have an uphill battle for the approval of some potential clients. Do you agree?