Poll: Which do you think will be better based on what we know – the Galaxy S6 or HTC One M9?
69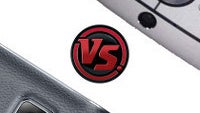 Despite the fact that neither Samsung nor HTC have made their next flagship devices – the Galaxy S6 and One M9, respectively – public, at this point we feel the panoply of leaks have painted a fairly representative picture of both. With just half a month or so lying between us and both devices' official announcements, it's time we took your pulse and saw which way you're leaning.
It's admittedly a tough one, specifically because both companies are widely rumored to have taken note of the negative feedback they've been receiving. For Samsung, that often has to do with its relatively less posh design and heavy TouchWiz interface, while with HTC we mostly have complaints about the camera. Thankfully, if word on the vine is to be believed, both companies are taking appropriate steps – the Galaxy S6 is expected to come in slim, aluminum unibody and feature a more refined version of TouchWiz, while HTC is said to be prepping a 20-megapixel snapper and ditching UltraPixel tech for good.
So, based on what we think we know about the two upcoming premier handsets, which would you say is shaping up to be the better device?