The next OnePlus "flagship killer" might be called the "OnePlus 2", reportedly delayed to Q3 2015
17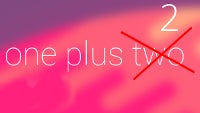 After OnePlus tried to shake up the Android market in 2014 and change the establishes status quo (with mediocre results), we have heard numerous rumors and information spillages that OnePlus is prepping another "flagship killer" for 2015. All aspects of this mysterious device, including its name, are subjects to extensive speculations.
А recent report claims tо shed some light about this device - first of all, OnePlus is tipped to simply name it the "OnePlus 2", dropping the likes of the "OnePlus One Two" and whatever other alpha-numerical combinations between "one" and "two" exist. The OnePlus 2 is said to arrive later this year, in Q3, yet we don't know if it will hopefully drop the notorious invite system that marred the
OnePlus One
.
As far as the specs of the device are concerned, we've heard numerous times that OnePlus will probably go all-in and not fail to employ its next smartphone with some killer head-turning specs. The latest rumors claim that the OnePlus 2 will ship with a Qualcomm Snapdragon 810, 4GB of RAM, and a 5.5-inch QHD display.
Recommended Stories