The new iPhones are stealthily aimed at aspiring cinematographers
8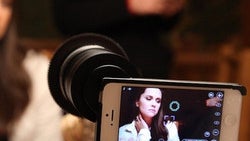 So, the new iPhones have been announced — as rumored, we get 3 new models. The iPhone 8 and iPhone 8 Plus, which are the "standard" upgrades of previous models, and the iPhone X, which brings a radical redesign to the line. Apple was very adamant at outlining all of the new lifestyle features without diving in specs and geeking out too much — as usual. Which is why we found it a bit weird that the Cupertinians didn't mention one small new feature of the cameras.
Browsing through the new iPhones' specs pages, we noticed that the new handsets will be able to record 4K video at 24 FPS, 30 FPS, and 60 FPS. Previously, the iPhone 7s and 7s Plus were locked to 30 FPS when at 4K resolution.
Now, the 60 FPS setting is self-explanatory — you get smoother videos with that "soap opera" effect, which you may or may not like. But the 24 FPS setting piqued our interest and it probably did so for any aspiring cinematographer artist out there.

Basically, 24 FPS is the "golden standard" for cinematic footage. It hits a soft spot between smooth movements and motion blur without looking too buttery smooth. You know that effect, when a clip is way too smooth and you feel like something is off and that you would never see such an effect in a big-budget film? Yeah, that's due to higher framerates.
We've got plenty of apps that give us 24 FPS recording on both the App Store and Play Store. However, it's cool to see Apple stealthily acknowledge that niche by baking the feature straight into the phone's software. Speaking of which... will we see 24 FPS recording make its way down to older iPhones via the iOS 11 update?
We don't see why not. The older hardware may have issues with 60 FPS recording in 4K, but it certainly should have no problem going down from 30 FPS to 24 FPS. The feature is not available in the current iOS 11 beta, but maybe it will be unlocked after the public version is released? Here's hoping!