The longest bull market in US history has been running on Apple fumes
5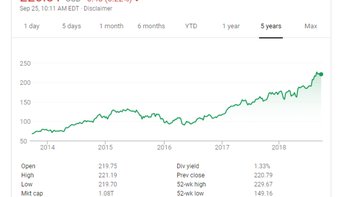 Apple has bought $226 billion of its
own shares back
in the span of a decade, fueling the longest bull run of US stocks in its history. Needless to say, it's not alone in not knowing what to do with its cash but return it to shareholders, but it's at the top of eight such buyback-ers which have cumulatively poured $690 billion in stock re-purchases since the financial crisis.
These share buybacks have contributed immensely to the longest winning streak in US stocks for... well... ever, and there is no end in sight. According to an index analyst at S&P Dow Jones Indices: "
Given the record earnings, strong cash-flow, investor demand and corporate statements, the indications are that the high level will continue for the rest of the year
."
Now, companies buying their own stocks to boost up prices is certainly great news for fund managers and Wall Street in general, as well as bragging rights for whoever happens to preside over the USA during the teardown streak. It also means, however, that there is a lot of money sloshing in the system that companies don't know what to do with, and don't see better investment alternatives than simply gobbling up loose shares on the market.
In the long run, this could lead to diminished returns but for now those who have money to invest can't easily lose them, it seems. Apple's $226 billion in share re-purchasing is just the most visible culprit in a trend that's been running ever since the Federal Reserve decided to print money and lend them at near-zero interest rates to whoever lined up, in order to tame the effects of the 2008's financial crisis.