The iPhone rumor pendulum swings back: to launch in October, not September
18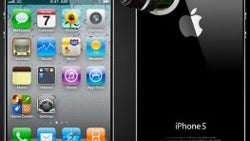 The iPhone rumor pendulum has swung back to professing October as the final launch date, mere hours after an AT&T employee stirred hopes by revealing a
blackout on vacations at the carrier
as an event was reportedly coming at the end of September.
"I don't know why AT&T's calling for all hands on deck those weeks, but

it's not for an iPhone launch

,"
a source familiar with Apple's plans dispelled the rumor to AllThingsD. Well, that should prove once and for all, if not the date, then at least the extra pint of salt that Apple rumors always come with.
But the next-gen iPhone is still expected this fall. The same source pointed out
"October,"
but couldn't give a specific launch date. Other sources have reportedly leaned towards an early October launch rather than late. This falls in line with some
earlier reports
about the phone hitting production lines in August, getting announced in September and launching early October.
The
iPhone 5
remains a well-guarded secret with expectations pointing to a possible dual-core A5 chip, similar to the one on the iPad 2 and an 8-megapixel camera. Even the future design of the phone is yet unclear as some expect to see a similar yet thinner device, while others envision a new, teardrop-like form of the handset.