The iPhone X successor may be priced much cheaper, as Apple cuts costs
41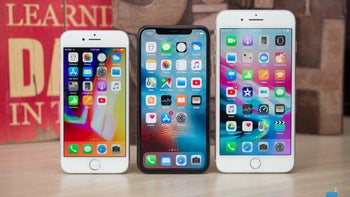 The
iPhone X
costs
about $400 to manufacture
as far as its bill of materials (BOM) goes. The parts inside, especially the 5.8" OLED panel by Samsung, and the
TrueDepth
camera kit that makes Face ID and Animoji possible, are more expensive than what Apple places in phones like the
iPhone 8
and
8 Plus
, hence the markup to
reach the $999 pricing for the X
.
The next edition of Apple's first handset with OLED display panel, though, is shaping up to cost much less in terms of parts and assembly costs, as components have fallen in price significantly, reports an analyst, citing supply chain sources out of Taiwan. By now, it is no mystery what
Apple's 2018 crop of iPhones
may look like - one iPhone X successor with 5.8" OLED display by Samsung, a
6.1" iPhone 9 with LCD screen
, and an iPhone Xs Plus, or whatever Apple calls it, with a giant 6.45" OLED screen, supplied
most likely by LG
.
The funny part in the report that Apple has managed to cut a lot of the production costs for the X, is that it is also probing models with lesser specs than the LCD iPhone 9, indicating that the eventual Xs may be cheaper both than its predecessor, and the 6.1-incher. In fact, the analysts say that it might be the cheapest phone in Apple's upcoming fall crop, though we find this hard to believe, OLED display and all. Still, if Apple releases it with less memory, as tipped, it could rival the starting price of the "cheap" iPhone 9 model with the single camera, which reputed analyst Ming-Chi Kuo expects to cost $700-$800 in the United States.
Alternatively, Apple may just be playing around with engineering samples, as the report says it has entered an agreement with Samsung for satisfactory OLED display prices, now that
the Koreans have overcapacity
, and could just be experimenting with the optimal specs-for-price ratio. In any case, this year the $999 slot may be reserved for Apple's largest model ever, the 6.4" one, while the iPhone X successor, and the LCD iPhone 9, may battle for supremacy below. This will let
the average selling price of Apple's handsets
stay the same, as users are increasingly showing they
can't stomach higher prices
, while the fall in parts cost will keep the profit margins in line, too.