The iPhone 6S could feature an improved front-facing camera with 1080p video recording and LED flash
67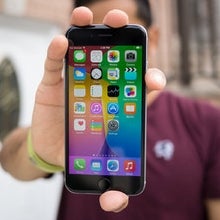 According to a new discovery, the upcoming iPhone 6S series could come with an improved front-facing camera with 1080p video recording and a front-facing LED flash.
Developer Hamza Sood recently discovered that a certain iOS 9 manifest file contains references to a number of front-facing camera features which are currently not available on any iPhone. This includes 1080p video recording, a front-facing flash, as well as a few modes such as 60FPS video recording, slow-motion video recording at 240FPS, and Panorama.
Since the front-facing camera will support 1080p video recording, the sensor has to come with a resolution of at least 2.1MP. However, it's unclear if this will also be the resolution at which the camera will take pictures, of if the video resolution will be lower than the photo resolution, as is often the case with smartphone cameras.
Although iPhone rear-facing cameras don't compete in the megapixel race, the picture quality is usually above average. The iPhone 6, for instance, only comes with an 8MP primary camera, but our
iPhone 6 review
shows that the handset performs very well in the camera department. However, no level of software optimisation can make up for the fact that the front-facing camera of the iPhone 6 and iPhone 6 Plus is a 1.2MP sensor that only shoots 720p videos at 30 frames per second. Apple markets the front-facing camera as 'FaceTime HD', but the 1.2MP selfies it takes don't capture as much detail as we'd want them to.
Although an upgrade to the front-facing camera resolution isn't surprising, it's a bit odd to learn that Apple might throw in a front-facing LED flash as well. At the moment, only
a few smartphones come with LED flash
on the front, and these handsets are usually marketed as selfie-oriented.
What do you guys think of this discovery? If Apple turns out to launch the iPhone 6S with a higher-resolution secondary sensor and a front-facing LED flash, would you be excited about the feature? Drop us a comment and share your thoughts!