Apple to set the iPhone 7 apart with dual-lens camera and pressure sensor for health apps
38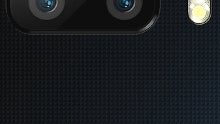 The
iPhone 6
is slowly reaching peak sales, but Apple is already hard at work to iron out the novelties that will be present in the upcoming iPhone 7 and 7 Plus. We should say iPhone 6S actually, as there will be no major redesign, tip supply chain sources from Taiwan, with the two phones likely retaining the 4.7" and 5.5" display diagonals, respectively.
What will eventually be new, though, is a thoroughly redesigned camera module, with dual lens design, perhaps similar to the HTC One (M8) or Huawei's
Honor 6 Plus
units, a shot at a "zoom function," and sensor capable of soaking in more light. An optical zoom part is hard to believe, despite phones like the
ZenFone Zoom
that were just revealed at the CES expo, since it will require protruding lens. There are some periscope-style optical zoom designs, but the bodies of the iPhone 6 and 6 Plus are so thin, we doubt Apple can fit anything like that inside. On the other hand, there are
lossless zoom
options, and
alternative approaches to optical zoom
, though we don't know how close these are to mass production. We'll see whether this pans out at all.
The other novelty that this year's iPhone will sport, according to the "supply chain sources," is said to be a 3D pressure sensor, which will be used in connection with Apple's
Health app
, and on its upcoming watch as well. The 3D part apparently means that there will be a depth "Z" axis added to the usual X and Y ones of the touch sensor, which is said to be used for aiding to measure pulse and blood pressure. If Apple manages to pull that pressure sensor thingy off, it will indeed be something rather unique to differentiate the iPhone 6S, iPhone 7, or whatever the handset gets named in the fall.
Recommended Stories