iPhone 6 Plus meets liquid nitrogen in torture test
31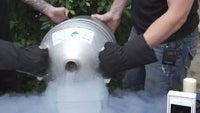 Sometimes, obliterating electronic gadgets with explosives, shots from
a sniper rifle
, or other high-powered weaponry just isn't enough.
Sometimes, you need to literally shatter your intended target with a sledgehammer, but not before you dip it in a small tub of liquid nitrogen. In this case, the newly released
iPhone 6 Plus
gets a rather chilling introduction just hours after it was purchased. Of course, in true RatedRR fashion, all the action was captured in high-quality slow-motion video.
For those that do not know, liquid nitrogen
boils
at negative-321 degrees Fahrenheit (-196 centigrade). It is used in all sorts of practical applications, and it also serves as a cryogenic fluid, meaning it can instantly freeze living tissue. It is sometimes used in a method of removing cancerous tissue.
It is also used in rapid fire-extinguishing systems, preservation of reproductive cells, shrink welding, cooling, and superconductor applications.
The team at RatedRR wasted no time in likely being the first to introduce a new series of torture tests for the
iPhone 6 Plus
. If using liquid nitrogen is the first test, we cannot wait to see the rest. As you might expect, the end result was shattering.