And on the third day, another iPhone 6 Plus endures slow-motion torture
16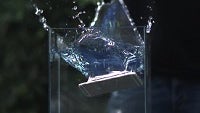 When RatedRR embarked to carry out
six different ways to destroy
the new iPhone 6 Plus, they figured that the new smartphone had a chance of surviving at least two of those tests.
Day three's test is not as exotic as liquid nitrogen, or as entertaining as
seeing something blend
, it is the old standby, the drop test. Water, dirt, and concrete all get a chance to do their best against the new
iPhone 6 Plus
.
We happen to think that this test might have been one that Rick Ryan thought would pass, and through the first two portions of enjoying the syrupy-smooth slow motion torture, it appears the iPhone 6 Plus is well on its way to surviving, until it meets concrete anyway.
This should not come as a surprise to anyone. The bigger they are, the
bigger they ultimately break
, and we have already seen this story play out, where an iPhone 6 and its larger brother, the 6 Plus, met their demise in unspectacular fashion.
Of course, things look cooler when breaking as they are viewed through 35,000-frames-per-second slowed way down, the hallmark of RatedRR's torture tests. They have three devices left to put the screws to, what will they do next?