Apple iPhone 4 falls 13,500 feet; lives to take and make calls
38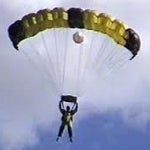 When Jarrod McKinney's 2 year old accidentally knocked his Apple iPhone 4 off a bathroom shelf, the screen cracked. When the same device slipped out of McKinney's pocket while he was
skydiving 13,500 feet above earth
, he figured that since he was well above the height of the the bathroom shelf, his iPhone was history.
The phone was found on top of a building a
good half-mile away
from where he safely landed with his parachute. McKinney used a GPS tracking app to find the phone. Watching from the ground as McKinney claimed his wounded device on the roof was instructor Joe Johnson who thought it might be funny to try to attempt calling the iPhone. And to everyone's surprise,
the phone started vibrating in McKinney's hand
.
Consumer Reports tech editor Mike Gikas joked that McKinney had
solved the attenagate problem
(aka the left-handed death grip), that plagued the phone when it was first launched, by dropping it from a plane. Gikas added that a cell phone can survive a major fall but
water damage is more likely to be fatal to a handset
.
McKinney plans on getting the phone's damaged screen repaired. While it still makes and takes calls, the shattered touchscreen means he must use a Bluetooth connection to make a call. Skydiving instructor Johnson was
so impressed with the durability of the Apple iPhone 4
, he plans on getting one himself. He says it's nice to know that if he crashes with the iPhone on him, the GPS could still lead rescuers to his location.
As for why the skydiving McKinney would be leaving his iPhone in his pocket while jumping from a plane, it seems that many jumpers do this and use the camera on the phone to
record video of a jump
. Some also use it to call to get picked up if their landing is off track.
This still doesn't answer the question of why McKinney's Apple iPhone 4 can survive a drop from 13,500 feet and others find their device totally worthless after a short drop on a carpet.
source:
CNNiReport
via
AppleInsider