The flagship killer vs the flagship: would you buy OnePlus 7 Pro or Samsung Galaxy Note 10+?
61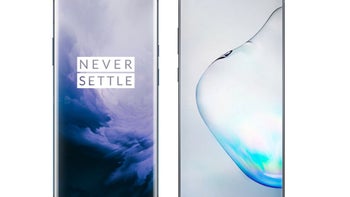 It was only five years ago when up-and-comer smartphone maker OnePlus launched its very first phone — the OnePlus One. From the get-go, the company wanted to make a name for itself for making no-nonsense phones that delivered flagship specs and performance at half the price. The One was priced at $300 in a time when average flagship price was $600-$650!
Well, fast forward to today and OnePlus' phones have grown a bit pricier. The
OnePlus 7 Pro
starts at $670 for 128 GB of storage and 6 GB of RAM, and tops off at $750 for a 256 GB / 12 GB combo. But you know what? That's still not bad… especially considering the crazy price climbing other manufacturers have been doing over the past couple of years. The recently-announced Samsung Galaxy Note 10+ starts at $1100 (256 GB / 12 GB RAM).
And the OnePlus 7 Pro is not holding back either. Not only is it a beautifully-made phone with the contemporary glass-and-metal body, a huge, curved display, and top-tier specs, it also has absolutely no notch or cutout — it features a mechanical pop-out selfie camera. That's something that not many manufacturers have dared experimenting with. To top it off, the 7 Pro's screen supports a 90 Hz refresh rate for super-smooth, buttery animations. That's only seen on a couple other gaming phones thus far.
But that's not to say that Samsung isn't throwing heavy punches as well. The
Note 10+
packs a new ToF Camera for great accuracy when using AR apps, an awesome top-class triple camera, its proprietary S Pen stylus, and integration with Microsoft apps and Windows PCs, which makes it a part of an ecosystem instead of a standalone device.
So, which of these would you buy? The cheaper OnePlus 7 Pro that still has its own style and unique features, or the hard-hitting Note 10+, which comes with everything that Samsung could fit into a phone (holding off on the headphone jack jokes here!).