The Sony Xperia Z4 might be offered in both QHD (1440p) and FHD (1080p) versions with better waterproofing and shiny metal
75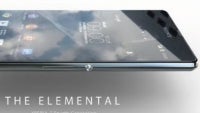 Another source has poured fuel in the fire of rumors that spec out the upcoming -
and probably hidden in plain sight at CES 2015
- Sony Xperia Z4 with a Quad-HD (1440p) display. More specifically, the Taiwanese source claims Sony will double-dip on the fourth-generation flagship, offering it to consumers in both 1080p and 1440p variants.
Reportedly, the QuadHD version is heading towards the US market, while "certain markets" will only receive the 1080p version. That's an interesting theory, but we're totally in the dark about what it's based on - everyone likes the highest of high resolution displays at the moment, even if they admit to their pixel densities being completely overkill. So it must be manufacturing and distribution issues to blame.
The source also cited improved waterproofing that needs no plastic flaps covering the Xperia Z4's open ports. That would be very welcome, as those flaps kind of rub us in the wrong way - they simply don't belong in Sony's harmonious and symmetrical OmniBalance design in which nothing is meant to stick out and yell "look at me!".
Additionally, the front camera has been improved in some way as well, and the smartphone's metal frame has been treated with a glossy finish. Hopefully, it doesn't end up looking tacky! And, as usual, the Xperia Z4 will be sold in different colors, with blue being one of the choices.
We're pretty sure Sony won't be keeping the Z4 devices at bay much longer, so we're looking forward to more leaks and announcements soon-ish. If you are looking for more info on the prized phone, be sure to check out
our Sony Xperia Z4 rumor round-up
.