This wristband allows you to hear phone calls through your fingers
12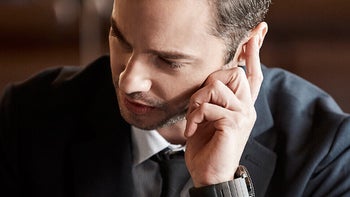 Technology can be strange, and strange is the right word to describe an innovative product called Sgnl by Korean company Innomdle Lab (don't ask us how to pronounce that right). Sgnl is a wristband that you can wear separately or as a wristband to a smartwatch, and it lets you hear your phone call through your fingers. Yep, once you get an incoming call you simply stick a finger in your ear to hear it.
Here is how it works: first, the strap receives voice signal from your phone via Bluetooth. Upon receiving the signal, it will generate vibration through a body conduction unit which transmits the voice vibration from your hand to your fingertip. When you place your fingertip to your ear, the vibration echoes and the sound is amplified within the ear. Voila!
Body conduction and vibrations bring a call to your fingertip, literally
And while it does sound strange and unconventional, we imagine that if you could pair the Sgnl wristband to a cellular-connected Apple Watch or Samsung Gear watch, taking calls when you don't have your smartphone nearby will be much more discrete.
The Sgnl wristband also doubles as a fitness tracker, measuring how many steps you take and how many calories you've burned. It comes in six colors, has a 3.5 hour talk time, charges in an hour and looks just like an oversized watch wristband.