The Pixel 2 and Pixel 2 XL battery test is ready: improvements over the first generation
15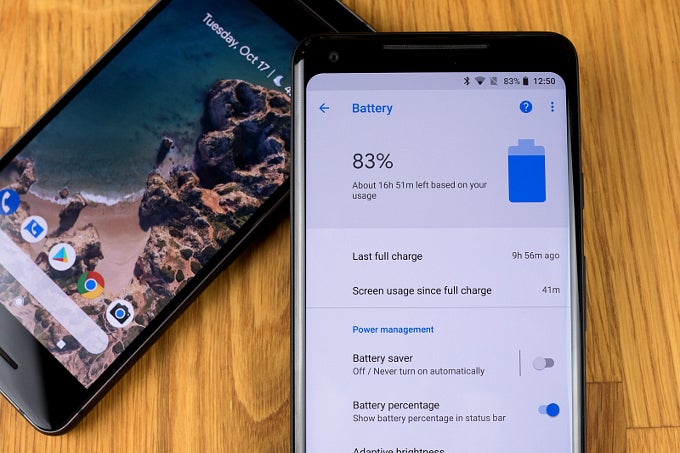 Gather around, Google phone lovers, we've got small Pixels and large Pixels, and both have undergone a rigorous battery life testing on our proprietary script that mimics heavy daily usage. The
Pixel 2 and its XL brethren
managed to beat their predecessors by a decent amount of longevity, and it's not that their battery capacities have changed in any meaningful amount to boot.
Thus, with almost the same capacity as its predecessor, the
Pixel 2
managed to outlast the
Pixel
with a full hour of screen-on time more, which leads us to the thought that the new and more frugal 10nm Snapdragon 835 chipset might have something to do with it, as we have the same 1080p screen resolution to power.
The new Pixel 2 and 2 XL offer improved battery life over the first-gen Pixels
The
Pixel 2 XL
also outmaneuvered the original
XL
with more than an hour and a half, but, since the OG big phone didn't have a very impressive battery life to begin with, both new second-gen Pixels sit below the nine hour mark on our test, which seems to be the threshold for getting more than a day of heavy usage out of your handset.
When it comes to charging, the new Google phones aren't showing any particular improvement, however, with the 2 XL even topping up slower than its predecessor with the provided stock charger in the box. Oh, well, you win some, you lose some.