The OnePlus One's AnTuTu benchmark score puts it at the top of the hill, ahead of the Galaxy S5 and the rest
41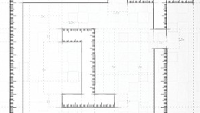 China-based OnePlus -- a company founded by
former Oppo VP
,
Pete Lau -- is still very much in its infancy, but it has already managed to get international media buzzing. With no gigantic marketing budget, and no serious backing behind it, the company has managed the feat by aiming high and keeping fans on their toes with constant teasers.
In the words of OnePlus, the One will be a true no-compromise device with high-end hardware and
looks that rival those of Apple's iPhone
. And while we haven't seen the device itself just yet, we already know pretty much
every major component
that will be powering the OnePlus One. Judging from those, OnePlus isn't joking around , and a new screenshoot of the One's AnTuTu benchmark score corroborates that notion. Posted on the company's CEO Weibo handle, the score of 38,179 points goes beyond what even the latest flagships on the market have managed. The Galaxy S5, for example, managed "just" 36,603 in our testing.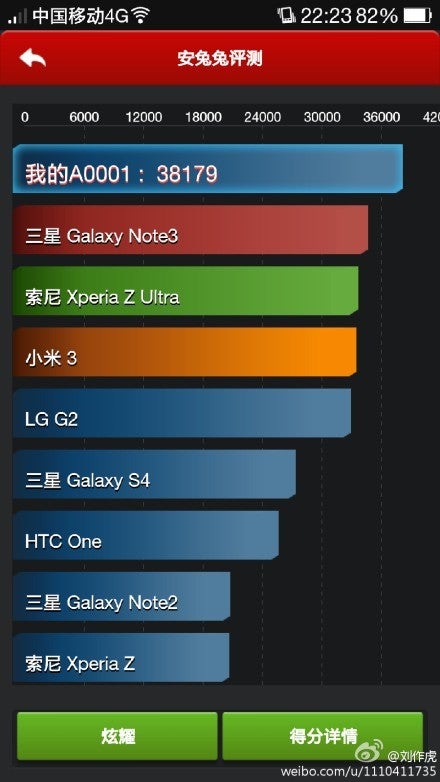 That's not surprising, though, seeing as
the OnePlus One's Snapdragon 801 MSM8974-AC, clocked at 2.5GHz
, is the most potent chipset Qualcomm has on the market, and literally. The AC part at the end recognizes the fact that this is, indeed, the highest bin of the silicon slinger's most powerful Snapdragon to date. What's more, the OnePlus team is prepping the One with 3GB of RAM.
With all this information in mind, we feel it's safe to say that as far as performance goes, the OnePlus One is poised to honor its promise of no-compromise experience, at least on paper. As it turns out,
the camera department is looking promising, too
.
The OnePlus One is expected to launch on April 23 and cost "under 350 euros".
Recommended Stories