The Nexus 6P can charge the Nexus 5X via USB Type-C
12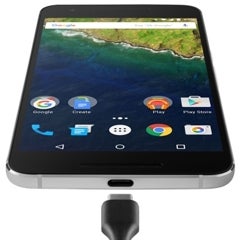 Google recently introduced two brand new Nexus smartphones, the LG-made
Nexus 5X
, and the Huawei-made
Nexus 6P
, which are the world's first to run Android 6.0 Marshmallow out of the box. For now,
only the Nexus 5X is available to buy
(for prices starting at $379 in the US), but the Nexus 6P will be released in the near future anyway (starting at $499).
Both the Nexus 6P and 5X come with USB Type-C ports and USB Type-C cables for charging. Interestingly, it's been discovered that, if you connect the Nexus 6P to the Nexus 5X via a USB
Type-C cable
, the former starts charging the latter. Thus, the large 6P (which has a 3450 mAh non-removable battery) can act as a power bank for the smaller 5X (which comes with a 2700 mAh battery, also non-removable).
According to our tests, both the Nexus 6P and Nexus 5X offer average battery life (see
here
and
here)
. The 6P isn't better than the 5X in this regard because, although it has a larger battery, it features a 5.7-inch Quad HD (1440 x 2560 pixels) screen, while the 5X only offers a 5.2-inch 1080p display.
For a closer look at Google's latest smartphones, check out our
Nexus 6P unboxing
and our
Nexus 5X unboxing
, and stay tuned for our reviews of both devices.
source:
@MKBHD