Google Nexus 6P unboxing
11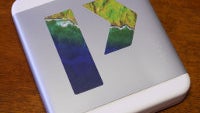 You know what enthusiasts and purist want when it comes to serious Android smartphones. Indeed, the Nexus 5X is an attractive option, not only for its vanilla Android experience, but also for its tempting starting price of $379. The savings might be paramount for some, but for those who relish on wanting the best experience, the Google Nexus 6P undoubtedly comes clamoring onto the scene with its impressive specs sheet and gorgeous unibody metal design.
Even though its packaging shares the same rectangular footprint as the Nexus 5X box, it's sporting rounded corners and another printed wrapping that bears a distinct '
P
' on the front – with a rendered image of the phone on the back. Yet, the entire packaging is still a minimalist one that isn't ornate, which kind of make sense factoring its "
pureness
."
Uncovering the front portion of the packaging, the first thing that comes across our path is the quick start guide showing us images to some of the handset's notable points. Underneath that, we have the main compartment that stores the phone, additional pamphlets, wall charger, and two charging cables. The latter is of significant importance because unlike the Nexus 5X, this one comes with both a USB Type-C to USB Type-C cable, as well as a USB Type-C to USB Type-A one. This is a pretty big deal, because most people probably have several standard USB wall chargers in their possession. Therefore, the latter cable ensures that the existing set of wall chargers you have aren't obsolete.
Alternatively, it can also be used to charge through a standard USB port – and even transfer data easily from a USB port on your computer. For its starting $499 cost, we'd say that the packaging is very well all expected. Sure, there's no included headphones or whatnot, but we're gladly accepting of the two types of cables that come out of the box. Expect our in-depth review soon!