These are the Galaxy S8 and S8+ battery packs, can you guess the battery life?
27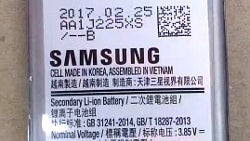 The
Galaxy S8
leaks are dropping like flies today, and after we saw it
beautifully depicted from all sides
, and
grasped the exact screen resolution
, it is now time to learn about the battery capacities of the 5.8" Galaxy S8, and the 6.2" S8+. The latest tip shows two battery packs, and their model numbers, EB-BG955ABA and EB-BG950ABA, are corresponding with the expected internal codes of the Galaxy S8+ (SM-G955), and the Galaxy S8 (SM-G950).
The capacities are 3000 mAh for the smaller S8, and 3500 mAh for the S8+, which jibes with what we've heard before about the
battery compartment
of Samsung's upcoming flagships, and corroborated by a
previous S8+ battery snapshot leak
. What else can we glean from these two batteries? Well, the cells are made in Korea,
not in China this time
, and assembled in Samsung's huge factory in Vietnam, where a number of the US phone versions by Samsung usually come from.
There is another pretty telling detail, though. The WSJ reported not long ago that Samsung is in talks with Murata to
become its third battery supplier
for the Galaxy S8 batteries, and, sure enough, the battery packs here are marked with "Samsung Japan," so the actual design may be coming from Sony's former battery subsidiary that is in the process of being acquired by Murata.