Galaxy S8's funky screen resolution revealed, but phone may default to 1080p
27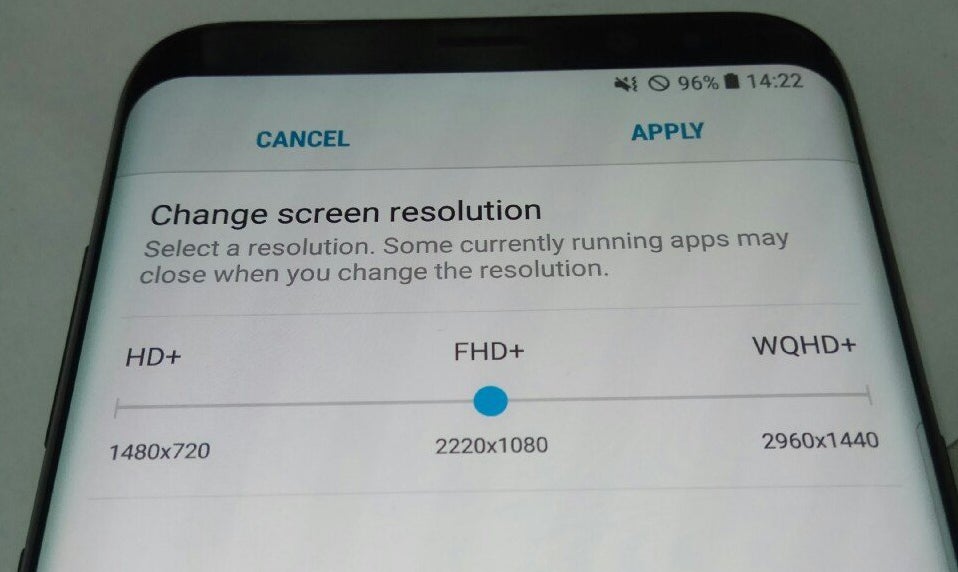 This unorthodox WQHD+ resolution confirms the rumored 18.5/9 screen aspect ratio
A photo of what is presumably a
Galaxy S8
display setting has leaked out, and it shows a display resolution change slider that goes from HD+ to WQHD+ resolution, with Full HD+ in the middle. That middle setting, however, is shown to be the default one, and we can't help but think that Samsung may pull of with the S8 what it
did with the S7 after the Nougat update
.
With the official release of Android 7.0 Nougat for the Galaxy S7 and S7 Edge, Samsung fans were treated to a nice dessert in the form of
over 20 new features
and overhauled visuals. However, some users have also ran into an odd issue – the display resolution of their Galaxy S7 devices dropped after the update. This was not really a bug you should have been worried about, but the option to switch to a lower screen resolution is rather a feature that may be a part of a new power saving scheme for those multiple moments you don't need the graphics subsystem burdened with the full Quad HD resolution.
As you can see in the image, Samsung may be doing the same with the Galaxy S8, but the more interesting thing are the new display resolutions that the slider is showing. The screen's actual resolution is WQHD+ or the unorthodox 2960 x 1440 pixels, indicating that the rumors about an
18.5:9 screen aspect ratio
may turn out true in the end. This new ratio, called
Univisium
, is similar to what LG did with the
G6
, and allows for taller, narrower devices. The default FHD+ screen setting is actually 2220 x 1080, while the new HD+ is 1480 x 720 pixels. Sign of the times.