The Dell Venue 10 7000 is now available for purchase from Dell.com
16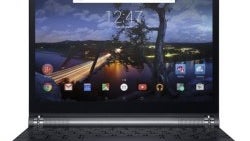 The Dell Venue 10 7000, the productivity-oriented tablet that Dell
officially unveiled earlier this month
, is now available for purchase from Dell.com. The manufacturer initially announced that the tablet will land in the United States at some point in May, and it looks like this estimate was accurate.
There are three versions of the Dell Venue 10 7000 you can choose from. The standalone tablet with 16GB of integrated storage space is priced at $499, the 16GB tablet with an included magnetically attachable keyboard dock is available for $529, while a package containing a 32GB version of the tablet plus the keyboard dock is available for $679. The 16GB standalone tablet and the 32GB tablet/keyboard bundle will ship on May 5th, while the 16GB version of the tablet with an included keyboard dock ships overnight.
With specs such as a 10.5-inch AMOLED display running at 1600 by 2560 pixels (QHD), an Intel Atom Z3580 SoC paired with 2GB of RAM, a large 7000mAh battery, an 8MP primary camera, a 2MP secondary shooter, and Android 5.0 Lollipop, the Dell Venue 10 7000 is probably the best productivity-minded Android tablet currently around, although it remains to be seen if businesses and regular consumers are tempted to go with Android for productivity tasks.
You can purchase the Dell Venue 10 7000 from the manufacturer's official website by
following this link
.