Dell's Venue 10 7000 aims to be your productivity-focused Android tablet
9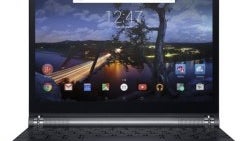 Remember the
Dell Venue 8 7000
, the amazingly thin Android tablet that Dell launched back in January? Well, the company has just announced the similar but larger Dell Venue 10 7000, a tablet aimed at business customers. In many ways, the new tablet is highly similar to its smaller brother, but there are some notable differences to take into account as well.
The Dell Venue 10 7000 comes with a 10.5-inch AMOLED display running at 1600 by 2560 pixels, and the extra screen real estate is the reason why Dell hopes businesses will use the new tablet for their productivity purposes, although Android isn't necessarily the best-suited operating system for productivity work. As far as the internal hardware is concerned, the new Dell tablet is a lot like its smaller brother, with the similarities ranging from the Intel Atom Z3580 SoC to the 2GB of RAM, and the 8MP-2MP camera setup. Other specs include a 3.5mm audio jack, a microUSB port, as well as a microSD card slot to complement the 16GB or 32GB of integrated storage space. In the software department, the new Dell tablet will run Android 5.0 Lollipop out of the box.
On the outside, the design of the Dell Venue 10 7000 is clearly inspired by the smaller Venue 8 7000, although it's not exactly identical. The tablet is just 6.2 mm thick, just 0.1 mm thicker than the 8-inch model. Despite the likeness of the two tablets, the new 10.5-incher comes with a cylindrical bulge that rests at the side of the tablet (in portrait mode). This where Dell placed the 7000mAh battery as well as a pair of stereo speakers. The cylindrical bulge is a trick that Lenovo has been using for quite a while on its Yoga tablet series, as moving the battery to that portion allows for slimmer designs and larger batteries. The cylindrical portion also allows the Dell Venue 10 7000 to be paired with its optional docking station, one that comes with a trackpad and a back-lit keyboard. This optional keyboard dock, paired with the large screen, is an interesting combination that should allow for some easy productivity work.
The new Dell Venue 10 7000 will be priced starting at $499 without the keyboard dock, which costs $130 extra. It remains to be seen if business users are willing to take up an Android tablet as their main productivity machine, but if they do, the Venue 10 7000 seems to be their best choice at the moment. The tablet will reach the US, Canada, and China at some point in May.