The 5-inch smartphone: is this the end of the screen size race?
99+
This article may contain personal views and opinion from the author.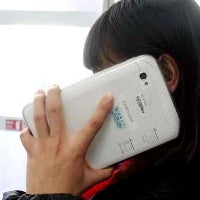 Give people a phone with a 3.5-inch display in 2007 and you'd hear oohs and aahs about how big that display is, and that it might just be too big. From then on, every year it's the same story over and over again, screens get bigger and everyone keeps on reconsidering how big a thumb actually is and how much of a hand gymnastics he or she can actually do.
With the arrival of the Samsung Galaxy Note and its huge success the answer was clear - a lot.
But while the Galaxy Note set the stage for extremely large displays, for the first time it was no longer just a smartphone, it was now about phablets. A name that would both show how awesome having a miniature tablet is and how much of a pain everything above
5.3
-inches is.
From 3.5 inches to 5 inches in five years
Driven by leaps in what was perceived as stalled screen technology, display resolution quickly became the hottest topic of conversation with the arrival of AMOLED screens.
But now we have some reasons to believe that we've arrived at the final stop of the "who has the biggest display" race this year with 5-inch smartphones.
Four reasons why 5-inch screens might be the final stop
First, phablets. There is a reason why a 5.3-inch smartphone created this new category - it was considered too big, people had to be warned. This was the setting of a border.
pixel
resolution in smartphones. On a 5-inch screen, that's a pixel density of 441ppi, enough for your retina to be in a state of happy oblivion when it comes to the existence of single jagged pixels. You simply cannot discern them.
We have argued it makes no real sense to jump to 1080p smartphones in the first place, since 720p already delivers enough detail for your retina to think the picture is perfect. But maximalists claimed that under some extreme circumstances there is still a tiny amount of perceptible improvement, and it was too much of a buzzword for anyone in the industry to miss. So it went to this new height, and jumped to 5-inch screens to try and argue the case of better image quality.
But there is just nowhere further to go, at least it won't be an improvement that a human eye can see.
Lastly, there is finally agreement among absolutely all phone makers about 5-inch 1080p screens. There are no
5.1
-inch displays, nor 4.9-inch displays released this year, no fluctuations in high-end smartphones - everyone sticks to 5 inches and 1080p, from Alcatel to Samsung (well, Apple is always an exception!).
With all this in mind, it seems we have finally settled. And that's a good thing. Variety would still be there - we'll have 6-inch smartphones like the Huawei Ascend Mate (but those would just be ridiculous), and we'll have all sizes you can imagine below 5 inches. But the border for a smartphone seems clearly defined now - 5 inches.
And that's a good thing. Settling on the screen size will move the debate from size and pixel density to things that matter more to the eye like screen calibration that has been far from perfect on most mobile devices (
except Apple's again
, of course!).
We will finally move away from focusing on the specifications and get used to the smartphone as a tool and not a wonder machine. And it's about time we got started on using those extremely powerful tools to better connect, eat, walk, think, live. It's all in the future.