New iPad takes the best mobile display crown from... the original DROID, can act as a studio reference monitor
10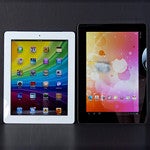 The
screen gurus from DisplayMate
are at it again, analyzing the "resolutionary" display on the new iPad. First off, Dr Raymond Soneira sets the record straight, confirming that for the reference 20/20 vision the term Retina Display indeed applies in the new iPad's case as its 264ppi
pixel
density is viewed from a farther distance than the 326ppi of the iPhone 4.
Dr Soneira says that the new iPad improves in the areas where the previous iPhone and iPad screens, and mobile LCD screens in general have been lacking - sharpness and color gamut representation. Compared to the 61% of the color gamut for the iPad 2 and 64% for the iPhone 4/4S, the new iPad's screen is carefully calibrated to show almost the full gamut at 99%, making it actually
suitable for professional use
with a little more calibration. The previous holder of the "Best Mobile Display" crown was the screen on the very first
Motorola DROID
, which has also been calibrated to perfection.
Sharpness has also received a boost, and the only areas he would like to see improvement is the screen reflectance of 7.7% and battery consumption, of course, since the "resolutionary" display draws 2.5 times the power required from the iPad 2 at maximum brightness.
Well, the new iPad has a 70% larger capacity battery, for that matter, in only slightly thicker frame. Dr Soneira noticed a discrepancy with the battery indicator reaching 100%, but the meter still showing 10W draw about an hour or so after before falling down to indicate a truly charged battery. Dr Soneira measured a battery runtime of 11.6 hours at 50% screen brightness, and just 5.8 hours when the backlight of the new iPad is maxed out.
It seems that Apple is applying the trick some laptop makers like Samsung use to extend the life cycles of batteries by artificially limiting the charge to 80 or 90% of the maximum, going from the usual 330 recharge cycles to almost a 1000, or roughly 3 years of service. Apple confirmed that it could "harm the longevity of the battery" if the new iPad is left on the AC adapter for the full 5 1/2 hours needed to charge the battery in its entirety. If you are like us and leave your gadgets to charge overnight, that point quickly becomes moot, though, since Apple doesn't cut off the supply, and actually allows the battery to reach a true 100% charge.