Texas Instruments demonstrates OMAP 5 reference hardware, says it's the "greatest platform on Earth"
9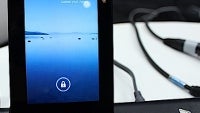 Texas Instruments finally showed a reference design hardware powered by its upcoming OMAP 5 platform. The chipset is expected to
land in a device or two come Q4 of this year
, with the beginning of 2013 registering much more product announcements with it, as per TI's management.
The dual-core GPU has been decoding 1080p content at 64fps, and can go up to 130fps, if not for the LCD screen refresh limits.
The OMAP 5 processor is so efficient and powerful, that, in fact, TI plans to have it in
ultrabooks, along with Windows 8 tablets
, of course. Texas Instrument's VP Remi El-Ouazzane had the following to say regarding the Cortex-A15 platform:
This is the greatest platform on Earth right now... way ahead of Apple, and it's the first Cortex-A15 (which runs 2x faster than the Cortex-A9) product on the market. When running two Cortex-A15 chips at 800MHz, it's more or less the same performance as running two Cortex-A9s at 1.5GHz. You'll see [commercially available products] ramping up with this stuff in late 2012 or early 2013. We are also running Windows 8 on the latest OMAP; it runs perfectly well, and we've been working very closely with Microsoft. We're working on multiple form factors - tablets, thin-and-lights - and we think ARM is going to bring tablets to the masses.
Easy there, Tiger. TI is currently flying high on the fact that Google chose its OMAP family as a reference chipset for Android Ice Cream Sandwich, so more and more manufacturers started to put TI silicon inside their smartphones and tablets.
Of course, by the time OMAP 5 hits shelves in devices, it will have to battle Samsung's own Exynos Cortex-A15 chips, Qualcomm's S4, Apple's A6, and NVIDIA's Wayne, so time will tell which one will destroy the benchmarks, or have the best power consumption/performance ratio.
source:
Engadget