Tech21's iPhone 7 cases put protection at the top of their priority list
5
This story is sponsored by tech21. PhoneArena's opinions in this article have not been affected in any way!
Even the most careful and mindful people in the world are sometimes at a risk of dropping their smartphone — seeing as the handset is this small, slippery device, which we take out of our pockets hundreds of times a day, it's just statistically improbable that we would never ever drop our smartphone. So, slapping on a protection, at least for the times you are out and about, is often a good idea if you want your expensive investment to last you long.
Tech21 is a case-making company, which puts durability and impact protection at the top of its list of priorities. Even its lightest and thinnest cases have a respectable guarantee to withstand a casual 5 ft (1.5 m) drop. We've got a few of tech21's cases for the iPhone 7 here at the office and we will be taking a close look at them now.
Design
In general, all the tech21 cases share a design language. The buttons are covered, there's always a lip on the front, and there's always internal ribbing for better shock protection. They have rather generous cutouts around the Lightning port and speaker grilles at the bottom, making sure that the phone would be compatible with charging docks and whatnot without taking the protection off. However, the case's frame around said cutouts is usually soft — noticeably softer than any other part of the case. Of course, that makes sense, as you would need a part of the case to be a bit more flexible so that the phone can snap in and out with ease.
For the more robust cases, tech21 uses a material, which it calls FlexShock. According to the company, it's capable of extremely efficient shock absorption, which in turn allows it to make cases that aren't too thick but can help your phone survive some truly high drops. Of the designs we have here, the Evo Elite and Evo Gem have a FlexShock shell.
That said, let's take a look at the individual models.
Impact Clear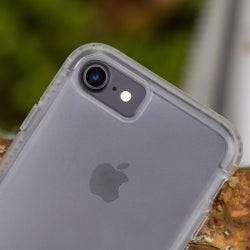 As the name suggests, this is one of tech21's thinnest offerings and it comes in a transparent finish that lets your iPhone's looks shine through. With the Impact Clear on, the iPhone's thickness grows from 0.28 inches to 0.36 inches (from 7.1 mm to 9.1 mm), and its width goes from 2.6 inches to 2.8 inches (from 67 mm to 71 mm), which is not too bad. We can see lots of internal ribbing along the case's edge, presumably there to increase the phone's chances of survival if a drop occurs. The button covers are a bit stiff to operate, but we guess it's the price to pay for that amount of protection at this width.
The Impact Clear is ranked for 5 ft (1.5 m) drop protection by tech21, which means that your casual, everyday drop from waist level shouldn't end in a destroyed phone.
Evo Elite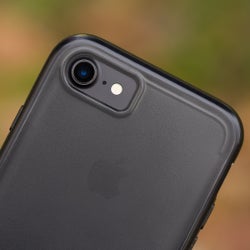 The Elite is softer to the touch, as it has a hard rubber-like, solid-colored frame. On the back, we still have a slightly transparent plastic, so you can still see your iPhone hiding underneath. With the Elite, the iPhone grows to a thickness of about 0.39 inches (10 mm) and width of 2.87 inches (73 mm). Internal ribbing along the edges of the case is still present and this time around, the button covers are soft and easy to press in, with contouring that makes them very easy to find. The rubbery frame is very grippy and we can't see this case ever slipping out of our hands.
The Evo Elite is said to be able to protect your phone from shattering by up to a 6.6 ft (2 m) drop thanks to its FlexShock casing. This means that you get extra headroom for waist drops and even head-level drops and your iPhone may even survive some stair rolls or ledge drops.
Evo Gem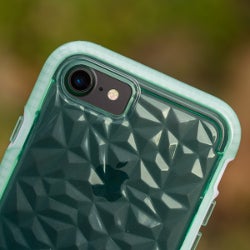 The Gem line drops the boring black and gold colors and goes for a more blingy appearance. With a pick from vibrant Rose, Lilac, or Green, this case has a very bright look to it, which is complemented by a diamond pattern on its transparent back. But the Gem isn't just for show — it's among tech21's most protective cases, rated for being able to withstand a 9.9 ft (3 m) drop. It's not thicker than the Elite, still at 0.39 inches, but it's just slightly wider, measuring at 2.95 inches (75 mm).
The frame has the same rubbery feel as the Evo Elite — the soft but durable FlexShock material is wrapped around the Gem as well.
Alright, folks, these are the cases we have on hand. If you want to grab one or check what other models tech21 has in stock, just follow the link below to go straight to the manufacturer's page!