Tech firms join together to file legal brief against Trump's immigration ban
85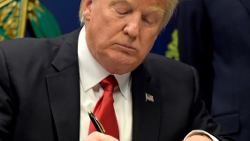 One thing you can say about Donald Trump. The 45th U.S. president has managed to unite several rival tech firms that normally couldn't agree on where to go for lunch. On Sunday, tech companies like Apple, Google, Microsoft, Netflix, Twitter, Intel, eBay and Facebook got together to file a legal brief in the U.S. Court of Appeals for the 9th Circuit. The brief takes a position against President Trump's temporary immigration ban.
Sunday morning, the U.S. Court of Appeals for the 9th Circuit refused to reverse a federal judge's ruling that blocked the president's executive order that called for the ban. Those challenging the executive order were asked to file written arguments by 4am Eastern Time on Monday.
Essentially an amicus curiae, or "Friend of the Court" brief, the filing by the tech companies opposes Trump's immigration ban that temporarily blocks immigrants from entering the U.S. if they are from one of seven countries. The well-known tech firms are telling the court that the ban "inflicts significant harm on American business."
"The Order represents a significant departure from the principles of fairness and predictability that have governed the immigration system of the United States for more than fifty years."-Legal Brief signed by major U.S. tech firms
Some non-tech firms also signed the legal brief including jeans maker Levi Strauss.
source:
Reuters