Taylor Swift returns to pitch Apple Music in the streamer's latest television ad
20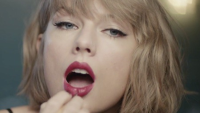 About ten months ago, if someone told you that Taylor Swift would end up doing commercials for Apple Music, you might have slapped them in the face and told them to get their $@&# together. After all, Swift had just decided
not to allow Apple to stream her red hot "1989" album
because the tech titan refused to pay royalties to artists, writers and producers during subscribers' three-month free trial period. Apple's reasoning was that since it wasn't getting any revenue during those three months, why should it pay royalties during that time period?
But Apple caved after Swift posted an open letter to the company, and
the singer decided to allow Apple to stream her record
. No longer in the Apple doghouse (if she ever really was), Swift's second commercial for Apple Music has been released. In the spot, Swift is thumbing through the "Getting Ready to Go Out" category. Choosing from the tunes in the "Jukebox Hits: 00s Alternative Rock" playlist, she selects Jimmy Eat World's song
The Middle
, a song she used to listen to in middle school. In the spot, Swift lip syncs to the number as she prepares for a hot night out.
At last count,
Apple Music has 11-million paid subscribers
versus 20 million for Spotify. To be fair, the latter also has 55 million subscribers to its free ad-based tier of service. Apple doesn't offer an ad-supported level of service, but does allow users to have a one-time three-month free trial. After that, a one-month subscription is $9.99 while a family of six can subscribe for $14.99.
source:
YouTube
via
MacRumors