Take 3D pictures using your Apple iPhone, with Seene
5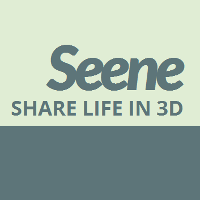 Just named the most innovative U.K. mobile company at MWC, Seene is an app that allows you to take and view 3D pictures on your Apple iPhone without special equipment. Using sensors on the phone, it allows 2D photographs to include extra depth data that can convert it into a 3D picture. It uses the accelerometer on the phone to allow you to view a picture at different angles to change the perspective of it.
The Seene app is free in the App Store. While those with an
Apple iPhone 4
can view Seene pictures, you need an
Apple iPhone 4s
or higher to take 3D snapshots. Pictures taken can be shared via Seene, Twitter and Facebook, and you can embed a Seene on Tumblr.
When you take a picture with the app, you move around to grab the shot from different angles. A video feed allows you to see your progress and let's you know when you are done. At that point, the 3D image starts coming together. And yes, the Seene team is building a version of the app for Android.
source:
Seene
via
Pocketlint