TSMC currently has a limited capacity for 28nm chips, plans to boost it to 100,000 wafers monthly in 2012
1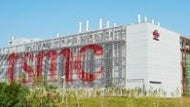 Next year is expected to bring us the first chips of a
new generation
- manufactured using the precise 28nm process, they will have a lower power consumption and increased capacity. One of the main manufacturing plants, Taiwanese TSMC has already started producing the new chips for a number of companies, but currently it has a very limited capacity, which might turn out to be a problem as demand grows.
TSMC is ramping up production and expects
28nm processors to account for 2% of its revenues
in Q4 2011. In 2012, the revenue share will jump to 10% on the growing demand. At the current rate of growth, 28nm wafer output is projected at 20,000 units monthly. The company will expand that by a large margin when the new Fab 15 plant opens up in the first quarter of 2012. The projected capacity will then reach 100,000 wafers a month.
Bottomline seems to be that the initial supply might not match the demand. Companies like Qualcomm, NVIDIA, AMD, Altera and Xlinix have all inked contracts with TSMC over 28nm chips. Broadcom, LSI Logic and STMicroelectronics are also possible TSMC clients.
Currently most mobile chips are manufactured using the 45nm or 40nm process. The NVIDIA Tegra 2 and upcoming
quad-core Tegra 3
are one popular example. The 28nm manufacturing process will allow for similar and more effective setups while shrinking the chip size even further.
Image courtesy of DigiTimes.