TIME calls the iPhone the most influential gadget ever
99+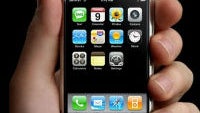 TIME has created a list of the top 50 most influential gadgets ever (note, these are not necessarily the best, just the most influential), and chose the Apple iPhone to top the list. Given the world we live in now where smartphones are the most popular computing devices and the primary computing device for many around the world, maybe this shouldn't be a surprise.
TIME admits that smartphones had existed before the iPhone (and there are a number of other mobile devices on the list), but the iPhone got the top spot essentially for being the gadget that touchscreens and made smartphones the must-have gadget for millions around the world. The next highest smartphone on the list was the Motorola DROID at #20, which TIME credits for popularizing Android and helping propel Google's platform to be the market leader today.
Other notable mobile entries on the list were: the Motorola Bravo Pager (#18), BlackBerry 6210 as the first BB to combine a cell phone with email and web (#24), Apple iPad for popularizing tablets (#25), Nokia 3210 aka the indestructible phone (#34), the Palm Pilot credited for solidifying handheld computing (#36), the Motorola Dynatac 8000x as the first "truly portable" cell phone (#37), Fitbit (#42), and Google Glass as the device to kickstart wearables and augmented reality (#50).
What do you think of the list? Any changes that need to be made?
Recommended Stories