TI announces the quad-core OMAP 5, able to shoot Full HD 3D video
9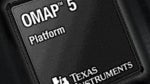 We are yet to see a handset with Texas Instruments'
dual-core OMAP 4
chipset on the shelves, and the company already announced OMAP 5. Quad-core, of course. Two high-powered CPU cores, up to 2GHz, and two lowly tickers, which are to carry out the mundane tasks to save on battery life.
We can't say it is an extremely novel idea, since Marvell already said its ARM-based
Armada 628
chipset will be tri-core, with one core clocked at 600MHz, but we catch the drift and have to say it makes a lot of sense. The OMAP 5 chipset architecture is based on ARM's newest Cortex-A15 "Eagle" design, since TI was the first to license it. Sampling of OMAP 5 will start later this year, with handsets and tablets able to utilize it in the second half of 2012.
The actual benefits for the end user will most likely be similar to the jump from single Cortex-A8 (Samsung Galaxy S, iPhone 4) devices to the Cortex-A9 based dual-core phones of today, like the
LG Optimus 2X
and the Motorola ATRIX 4G (our hands-on
here
). Dual-core today brings Full HD 1080p video recording and playback, as well as the ability to shoot 3D-HD video, whereas OMAP 5 phones will be able to shoot, say,
3D-Full HD
video. TI's new chipset will also support up to four cameras which can shoot Full HD in parallel, if you are so inclined.
TI's added value is
gesture recognition
for commanding your device, as well as great DSP engines for photography. Special care is paid to the camera department in OMAP 5 as well, with built-in chips for what TI calls "
computational photography
", using the powerful silicon to compensate for motion blur, camera shake, and bring about enhanced HDR, as well as
real-time face recognition
. Object and text recognition are also taken to the next level, which should bring along some promising
augmented reality apps
.
As usual, though, a new chipset generation with ARM's design brings about more efficient manufacturing processes, able to cram more transistors on the same space, or the same amount in a much lower footprint. TI promises 3 times the performance of OMAP 4, and 5 times the graphics power, which is an amazing feat by itself. Have a look at the platform's capabilities in the video below.
The cherry on the top is that thanks to the
28nm
production process (Tegra 2, for example, is done on the 45nm process), it all comes at just
40%
of the OMAP 4 battery consumption. There will be two version -
OMAP5430
, for smartphones, and
OMAP5432
for tablets and the like, which can support up to 8GB of DDR3 RAM.
You can read all about the multi-core chipsets in our in-depth article here.
We should have a good overview what OMAP 4 is capable of in the
Blackberry PlayBook
very soon, and maybe even judge about OMAP 5's capabilities for next year. Hopefully it won't come just in time to film the end of the world in 3D-Full HD with our handsets.
source:
TI
via
Engadget