T-Mobile's Uncarrier 7.0 announcement happening September 10th
19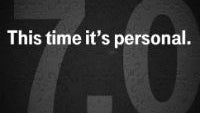 It has only been a bit over two months since T-Mobile announced stage 6 of its Uncarrier movement, which was the
Music Freedom
making it so streamed music on certain apps wouldn't count towards your data cap. Now, T-Mobile is getting ready to announce Uncarrier 7.0, and has set the date of that announcement for September 10th, the day after Apple's iPhone 6 event. The two announcements might not be related, it is just the time of year for big announcements.
Oddly, this announcement won't be taking place in any of the usual spaces or meeting halls. Rather, it will be held in the T-Mobile store on the corner of Market and 3rd Street, which is only about two blocks from the Moscone Center where Apple has traditionally held its events (although not where Apple is holding this year's
iPhone event
). As far as what to expect from the announcement, that is all speculation. The only hint T-Mobile is giving is saying "This time it's personal."
We have no idea what that could mean. It is possible that T-Mobile will be announcing new plans to compete with
Sprint's
recent changes
, or perhaps even something similar to Sprint's Framily plan with personal bills for individual family plan members. Or, it could be something completely different. We'll just have to wait and see.